The Board of the Humber Bridge comprises representatives of all four local unitary authorities serving Hull, East Riding of Yorkshire, North Lincolnshire and North East Lincolnshire, plus two people nominated by the Local Enterprise Partnership.
The Board meets every two months.
The current Board is as follows: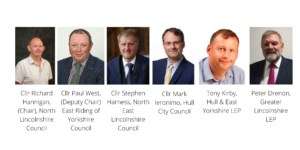 Click here for the latest information.
Corporate Documents
Humber Bridge Board Accounts Final 2021-22
Humber Bridge Board Accounts Final 2020-21
Humber Bridge Board Accounts Final 2019-20
The Humber Bridge Board Constitution
Humber Bridge Strategic Plan 2021 -2026