A HumberTag is a small electronic device to fit in your car, which is connected to an online prepaid account, enabling you to pay for your tolls automatically.
Not only will you be able to use the Tag Lane (Open Road Toll) hassle-free, but you will also receive 10% off each crossing for using the Tag.
You can set up an account online, adding funds, and requesting a HumberTag for each of your vehicles. Tags are associated to vehicle registrations. Our system detects the Tag, checks it against the registration, and then deducts the toll from your online account. There is a £15 deposit required for a Tag (refundable when you no longer require the Tag and return it to us).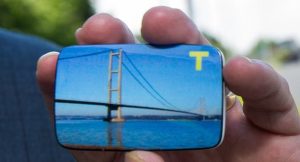 HOW DO I APPLY?
CLICK HERE TO APPLY ONLINE
---
HOW DOES THE TAG WORK?
A HumberTag, when fitted in the associated vehicle, will be picked up by our sensors when you cross the Humber Bridge. As long as the registration of your vehicle matches the one associated to the Tag, then the toll charge would be deducted from your account's balance.
Along with your HumberTag you will receive everything which is needed to fit the Tag into your vehicle. Tags should be fitted against your windscreen. Watch the provided video for fitting instructions for Angled Windscreens (cars, small vans) or Vertical Windscreens (large vans, HGVs).
When fitting your HumberTag avoid placing it in any shaded areas as this will interfere with the ability of the sensors on the Bridge to pick up your Tag.
Using the Tag Lane
---
UPDATING YOUR DETAILS
Personal Details: You can update your personal details at any time by logging into your account on the HumberTag website. Always ensure that your details are up to date to ensure that you still receive notifications regarding your account.
Vehicle Details: If you have changed vehicles and wish to use your Tag in your new vehicle, you must inform the Customer Service team by using the Contact Form
---
AUTOMATIC TOP-UP (HUMBERTAG ACCOUNT HOLDERS ONLY)
We've added the option to automatically top-up your HumberTag Account when your balance is running low, so you don't ever have to worry about adding funds.
PLEASE WATCH THIS SHORT VIDEO TUTORIAL FOR AUTO TOP-UP.
FREQUENTLY ASKED QUESTIONS
c

Expand All
C

Collapse All
There is currently a global shortage of microchips which has affected the manufacture of all electrical items, including the Tags we use. This means that our Tag supply chain has also been affected. We are continuing to work with our suppliers, but are informed that our most recent order will be significantly delayed as a result of this global shortage.
Therefore, in order to minimise the impact on our customers, and as a temporary measure, we have made some changes to our system that will allow our customers to use the freeflow Tag Lane, once your vehicle has been successfully added to your HumberTag account.
Please note this temporary change to the system will NOT allow you to use the toll booths – if you drive to a Toll Booth without a fitted Tag in your vehicle, payment will be required via debit/credit card.
HumberTag will be dispatched in due course, however, whilst you are awaiting your HumberTag(s) you are able to use the Tag Lane, providing your account has the necessary funds.
We would ask you not to make contact with the Customer Services Team for an update on the timescale for sending out a Tag, but would like to reassure you that a Tag will be processed and issued in due course.
Yes – In order for the Tag to be picked up by the sensors on the Humber Bridge. Fitting instructions are provided when you receive your Tag.
No – HumberTags are vehicle registration specific; they cannot be switched to a vehicle with a different registration than the one registered with us. To do so would result in violations being incurred.
If you need to change the registration which is associated to the Tag, for example, you have changed vehicles, then you will first need to inform the Customer Service team (via the Contact Form) and await confirmation of the change.
In the event of the loss of your Tag, please contact the Customer Service Team by using the Contact Form.
Replacement brackets can be obtained from the manned toll booths. There is no charge for this.
The 10% toll discount shows separately on your account. If you log into your Tag account and click the 'View Transactions' button, you will see a list of all of the crossings you have made. On this screen it will simply show the toll tarif your vehicle comes under – £1.50 for a car (for example).
The discount is shown on a separate tab on this screen – 'Charges/Deductions'. You will see an amount for the discount (£0.15 for a car, £1.20 for an HGV, etc) with a date and time that corresponds with your crossing.