USING THE BRIDGE
The Humber Bridge is a toll bridge. With the exception of motorcycles and approved concessions, vehicles must pay a toll every time they cross.
Vehicles are charged a toll according to their classification. Drivers with a valid HumberTag installed will receive a 10% discount on their crossings.
There are two ways to cross the Humber Bridge. Customers who have a HumberTag account/ approved concessions/motorcycles are able to use the Taglane (Open Road Toll). The HumberTag is a pre-paid account that enables account holders to travel through the toll plaza without stopping. Payments are deducted from their account automatically each time they travel across the Bridge.
Customers without a HumberTag should stop at one of the manned tollbooths instead.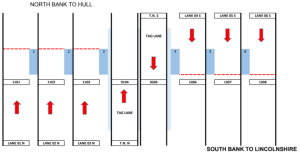 ---
TOLL CHARGES
---
HOW TO PAY
Quick and easy contact-free payments can be made with a contactless card. Chip and pin is also available.
Alternatively, pay with a tap of your phone using Apple/Google/Samsung Pay.

If you have a HumberTAG this can also be used at the toll booths.
THE HUMBER BRIDGE NO LONGER ACCEPTS CASH PAYMENTS.
---
UNPAID TOLL CHARGES
IF YOU CROSS THE HUMBER BRIDGE USING THE TOLL BOOTH OR TAG LANE (OPEN ROAD TOLL) WITHOUT PAYING YOU MUST PAY FOR YOUR CROSSING WITHIN 72 HOURS, OR AN ADMIN CHARGE OF £15 WILL BE ADDED. THIS IS PER CROSSING.
Crossings are uploaded to the payment portal on Humbertag.com the following working day from 1pm (Mon – Fri, excluding bank holidays). The 72 hours to pay only begins once the crossing has been uploaded.
If you have received an unpaid toll notification and wish to dispute this, please contact us.
---
TOLL CONCESSIONS
We offer free crossings to those who are eligible under certain criteria. The criteria and requirements are listed on our Toll Concessions page.
---
ABNORMAL LOADS
Vehicles carrying an abnormal load (defined as over 44 tonnes and/or over 3.05m (10'0") wide), must pay an additional charge.
There is a strict process for vehicles with abnormal loads to follow in order to cross the Humber bridge. Please click here for more information.
---
DEFERRED PAYMENTS
These are issued to drivers in use of emergencies and may be subject to administration charges.
Please see Deferred Payment 'leaflet' below.
Notice of Toll Due
You are required under Section 11 of the Humber Bridge Act 2013 to pay a toll to cross the Humber Bridge. As you have not paid the appropriate toll at the time of your crossing you have been issued with this notice of toll due.
How do I pay?
Your crossing will ONLY be available to pay from 1pm the following working day.
ONLINE – The easiest way to pay is online at www.humbertag.com. Here you will be able to enter your vehicle registration number into the search facility and pay for your crossing.
It is your responsibility to check our website for your transit(s) to be uploaded to avoid incurring additional charges.
Will I incur charges?
Once your vehicle details are uploaded to www.humbertag.com you have 72 hrs to pay your toll.
Further administration costs will be incurred if the issued Unpaid Toll Notification is not paid – full details can be found on www.Humbertag.com.
---
FREQUENTLY ASKED QUESTIONS
GENERAL
c

Expand All
C

Collapse All
CASHLESS-SPECIFIC
Our system is not designed for high numbers of motorists without a Tag to use the Tag Lanes. If you do not have a HumberTag, you must stick to using the toll booth lanes, or apply for a HumberTag.