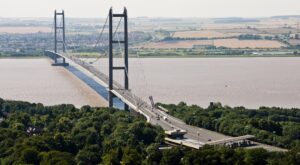 We will be carrying out overnight works on the Bridge this Saturday evening (13th May) until Sunday morning (14th May) to avoid disruption during the daytime
From 8pm Saturday evening – 9am Sunday morning, both the northbound and southbound Tag lanes will be closed and there will be a Contraflow in place. Please note that you will still be able to cross the Bridge in either direction, and HumberTag customers can still use the Toll Booths. 
This will enable us to carry out essential carriageway surfacing works and streetlight repairs in the Southbound carriageway.
Please allow extra time for your journey if travelling during this time, and drive carefully through the roadworks.