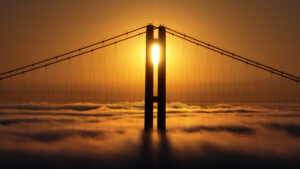 Overnight works to take place on the Humber Bridge 
Important work to resurface the northbound road deck will begin at 6pm on Saturday 19th August and is due to finish by 6am the following day (Sunday 20th August).
Both Tag lanes will be closed during this time. However, you will still be able to cross the Bridge and HumberTag customers will be able to use the toll booths. By carrying out the work overnight, we are able to minimise impact on traffic as much as possible.
Drivers are urged to allow extra time for their journeys in order to minimise any potential disruptions.  
Works of this nature are weather dependent, meaning that they may need to be cancelled and rescheduled at short notice. Should this occur, more information will be provided on our social media channels.
For the latest updates, please follow us on Facebook and Twitter or by checking www.humberbridge.co.uk/news.