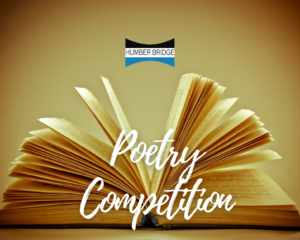 We are super excited to announce the winner of our poetry competition today of all days, National Poetry Day!!!
So (drum roll please) a big massive congratulations to David Wilberforce who has won with his poem called A Lockdown Walk Across The Humber.
The judges said David's poem was both memorable and lyrical.
We know you'll be dying to hear the poem, but there's an amazing reason why you'll just need to wait a little longer.
As part of David's prize, Hull Uni has arranged for him to work with some professional poets to enhance his work before collaborating with soundscape artists and musicians to create a multi-media reading of A Lockdown Walk Across The Humber. We don't want to rush the creative process, so can't set an exact time for release, but hope to share via our social channels by mid-November. The poem will also then be available on our website and via a QR code on the Humber Bridge estate, so you can listen to it whenever you visit.
A huge thank you to our friends at Hull Uni, who have helped with the judging and arranging the prizes.
Special mention goes to Suzanne MacLeod and Miriam Moore, who came second and third respectively, and whose poems will also be available on our website very soon.
And a big massive heart-felt thank you to all of our entrants, we were blown away by the quality of all the submissions, which was echoed by our judges, who commented on how tricky it was to pick a winner.
Happy National Poetry Day!!!